Dell xps 17 9700 Laptop-Core(TM) i7-10750H -GTX 1650 Ti 4GB GDDR6
Dell xps 17 9700 Laptop-Core(TM) i7-10750H -GTX 1650 Ti 4GB GDDR6
Dell xps 17 9700 Laptop-Core(TM) i7-10750H -GTX 1650 Ti 4GB GDDR6
Start in an instant:
 A built-in lid sensor allows you to open the lid and power up in milliseconds, no matter what power-state you are in.
You are the password: Choose between two secure, personalized ways to log on. Wake your system with Windows Hello as the infrared camera recognizes your face and unlocks your XPS with secure facial recognition technology. The fingerprint reader integrated into the power button lets you log on with just a touch.
Easy on-the-go: Sacrificing the essentials for a thinner body is unheard of. With four Thunderbolt™ 3 ports, one-cable connect for Dell docking, headphone jack and a full SD card slot you can count on high-speed connectivity, flexibility of power-in and transferring files from your camera on-the-go.
Work or play all day: You'll experience the long battery life – up to 23 hours, 25 minutes5 on a Full HD+ model with a 97WHr battery when using productivity applications like Word or Excel or up to 13 hours, 8 minutes6 when streaming Netflix. On our UHD+ panel, get up to 14 hours and 8 minutes7 using productivity apps or up to 7 hours and 28 minutes8 of Netflix streaming.
Description
Dell xps 17 9700 Laptop-Core(TM) i7-10750H -GTX 1650 Ti 4GB GDDR6
Dell xps 17 9700 Laptop-Core(TM) i7-10750H -GTX 1650 Ti 4GB GDDR6
Feel the power: High-performance 10th Gen Intel® Core™ processors and powerful NVIDIA® graphics power the most intensive creative pursuits.
Desktop-caliber creativity in a laptop: Packed with staggering performance typically only available from desktops, 10th Gen Intel® Core™ processors bring desktop-caliber creativity to your laptop. With up to i7 processors with 8 cores and 16 threads, 10th Gen Intel® Core™ processors help you capture, edit and share your creations faster than ever before. Designed for performance and portability, so you can go wherever your vision takes you.
Next gen content creation: The XPS 17 with a GeForce RTX GPU features dedicated ray tracing, AI, and video hardware for next generation content creation. Dedicated ray tracing cores render beautiful scenes with accurate lighting, shadows, and reflections. Dedicated AI cores handle time-consuming, repetitive creative tasks such as video re-timing, image enhancement, color matching, face tagging, and style transfer. And dedicated video hardware enables fast, high-quality encoding and decoding for video editing and livestreaming.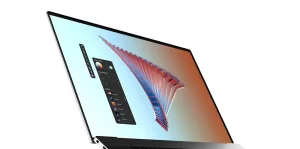 Speed and memory: Power through intense workloads with up to 64GB memory and up to 3x faster wireless with Killer™ AX1650 built on Intel WiFi6 Chipset.
Advanced thermal design: The XPS 17 delivers unprecedented performance in an incredibly thin form factor. Optional discrete graphics feature unique dual opposite outlet fans, that increase fan airflow by approximately 30% and drive cooling airflow in both directions, resulting in more airflow overall and improved skin temperatures2. Dell's development of the Dual Opposite Outlet fan has resulted in multiple pending patent applications and at least one issued patent. A massive vapor chamber spans the entire width of the laptop providing even more heat dissipation capacity to help keep the laptop cool and achieve higher turbo power.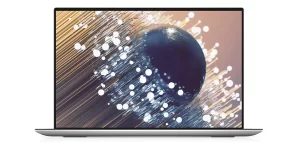 Dell xps 17 9700 Laptop-Core(TM) i7-10750H -GTX 1650 Ti 4GB GDDR6 Specs:
Core(TM) i7-10750H (12MB Cache, up to 5.0 GHz, 6 cores) ,
17.0″ UHD+ (3840 x 2400) InfinityEdge Touch Anti-Reflective 500-Nit Display
 Palmrest for 79 key (Fingerprint Reader)
 Platinum Silver exterior, Black interior
  16GB DDR4-2933MHz, 2x8G
 1TB M.2 PCIe NVMe Solid State Drive
 Black 130W Type-C Power Adapter
 European Power Cord
 6-Cell Battery
 97WHr (Integrated)
 NVIDIA(R) GeForce(R) GTX 1650 Ti 4GB GDDR6
 Killer(TM) Wi-Fi 6 AX1650 (2×2) and Bluetooth 5.1
 Internal Arabic Qwerty Backlit Keyboard
 Windows 10 Home 64bit English, Arabic, French, Russian, Turkish
 Microsoft Office 30 Day Trial – Excludes Office License
1Yr Basic Onsite Service Extension
To order the product, visit the Contact Page.