DELL OptiPlex 7090 Tower Core™ i7-11700-8GB-1TB HDD-Intel® UHD 750 Graphics
DELL OptiPlex 7090 Tower Core™ i7-11700-8GB-1TB HDD-Intel® UHD 750 Graphics
25.300,00 EGP
DELL OptiPlex 7090 Tower Core™ i7
OptiPlex 7090 Tower :
Intel® Core™ i7-11700 Processor (16M Cache, up to 4.90 GHz) with 260W Power Supply (Bronze)
 DVD+/-RW Bezel
8GB (1x8GB) DDR4 non ECC memory
3.5 inch 1TB 7200rpm SATA Hard Disk Drive
8x DVD+/-RW 9.5mm Optical Disk Drive
 Intel Integrated Graphics
Speaker for Tower and SFF
Dell Optical Mouse-MS116 – Black
Dell Wired Keyboard-KB216 – Arabic (QWERTY) – Black
Description
DELL OptiPlex 7090 Tower Core™ i7-11700-8GB-1TB HDD-Intel® UHD 750 Graphics
DELL OptiPlex 7090 Tower Core™ i7-11700-8GB-1TB HDD-Intel® UHD 750 Graphics features:
OptiPlex has over 28 years of experience delivering customer-led innovation for desktops by continuously creating faster and smarter experiences. Featuring versatile, space-saving form factors with customized deployment options and up to 11th Gen Intel® processors.1
ExpressResponse:2 With Intel® Adaptix™ Technology, prioritize your most important apps, so they open faster and perform better.
Intelligent Audio: Collaborate like you're in the same room. Intelligent Audio enhances your audio quality and reduces background noises, so you can hear and be heard, creating a better conference experience for all.
ExpressConnect: New ExpressConnect automatically joins the strongest access point and directs bandwidth to critical applications, wherever you work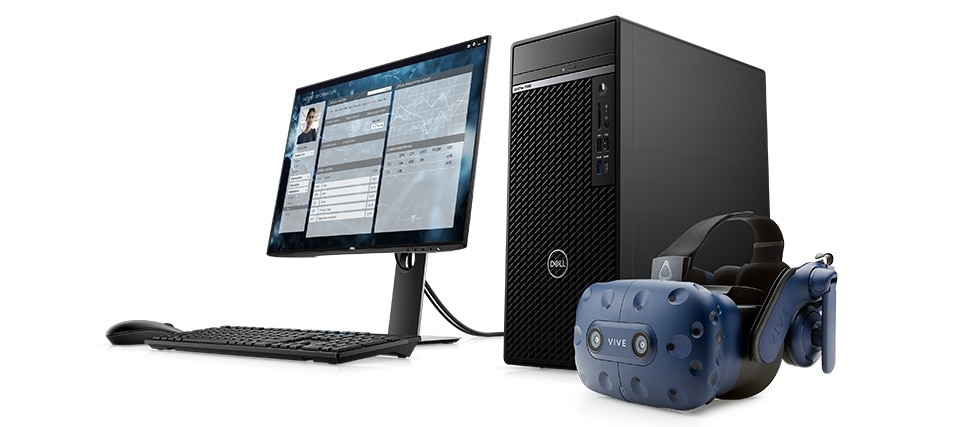 Flexible configuration: Embrace new productivity features at the same affordable price you've come to expect. With multiple form factors, you'll find a desktop that works perfectly within your workspace.
Stay Cool: Utilizing the cooling design of the front bezel, the 7090 maximizes air intake to keep your system's temperature down.
DELL OptiPlex 7090 Tower Core™ i7-11700-8GB-1TB HDD-Intel® UHD 750 Graphics Specs:
Tower
11th Generation Intel® Core™ i7-11700 (16 MB Cache, 8 Core, 16 Threads, 2.5 GHz to 4.9 GHz, 65 W)
Operating System (Dell Technologies recommends Windows 11 Pro for business.)
Windows 10 Home, 64-bit
Windows 10 Pro, 64-bit
Windows 10 Pro Education, 64-bt
Windows 10 IoT Enterprise 2019 LTSC (OEM only)
Windows 10 CMIT Government Edition 64-bit (China only)
Kylin Linux Desktop version 10.1 (China only)
Ubuntu® Linux® 20.04 LTS, 64-bit
Tower
Intel® UHD 750 Graphics for 11th Generation Intel® Core™ i5/i7/i9 processors
Tower
8 GB, 1 x 8 GB, DDR4, 2666 MHz for 10th Generation Intel® Core™ i3/i5 processors, 3200 MHz for 11th Generation Intel® Core™ i5/i7/i9 processors
Tower
3.5-inch, 1 TB, 7200 RPM, SATA, HDD
Tower
Dell Optical Mouse-MS116 – Black, Dell Wired Keyboard-KB216 – Arabic (QWERTY) – Black
Tower
Front:
1 USB 2.0 port with PowerShare
1 USB 3.2 Gen 2 port
1 USB 3.2 Gen 2×2 Type-C capable port (with Intel 11th gen CPU) / USB 3.2 Gen 2 Type-C port (with Intel 10th gen CPU)
1 USB 2.0 port
1 Universal Audio JackRear:
1 USB 3.2 Gen 2 port
2 USB 2.0 ports with Smart Power On
3 USB 3.2 Gen 1 ports
1 USB 3.2 Gen 2 Type-C® Alt-Mode (optional)
1 RJ45 Ethernet port
1 Re-tasking Line out/Line in audio port
2 DisplayPort 1.4 ports
1 VGA Port/DisplayPort 1.4 Port/HDMI 2.0b Port/ USB 3.2 Gen2 Type-C® Port with Alt-mode (optional)
1 Serial
2 PS/2 ports
Tower
8x DVD-ROM (Optional)
8x DVD+/-RW (Optional)Small Form Factor
8x DVD+/-RW (Optional)
Tower
1 SD-card slot (optional)
1 full-height Gen 4 PCIe x16 slot
1 full-height PCIe x16 (wired x4) slot
1 full-height PCI-32 slot
1 full-height PCIe x1 slot
1 M.2 2230 slot for Wi-Fi and Bluetooth card
1 M.2 2230/2280 slot for SSD/Intel Optane
1 M.2 2280 slot for SSD/Intel Optane
4 SATA slots for 2.5-inch HDD/SSD, and slim Optical Drive
Qualcomm QCA61x4A, 2×2, MIMO, 867 Mbps, 2.40 Ghz/5 GHz, Wi-Fi 5 (WiFi 802.11ac), Bluetooth 5.0
Qualcomm QCA9377, 1×1, 433 Mbps, 2.40 Ghz/5 GHz, Wi-Fi 5 (WiFi 802.11ac), Bluetooth 5.0
Intel® AX201, 2×2 MIMO, 2.40 Gbps, 2.40 Ghz/5 GHz, Wi-Fi 6 (WiFi 802.11ax), Bluetooth 5.1